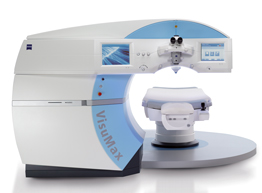 Sharper Vision provides you the safest and most advanced technology available today! We use bladeless flap creation with wavefront optimized LASIK to provide our patients sharper vision than ever before possible! Even those who are not a candidate for traditional LASIK may be able to successfully have bladeless LASIK. It is simply "the best of the best."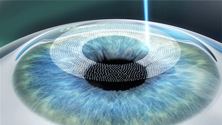 Traditionally, the first step of the LASIK process involves the creation of a cornea flap using a mechanical device. Alternatively, Bladeless LASIK is an all laser technique that uses a high frequency femtosecond laser for flap creation. This provides a more uniform and predictable flap. Because the flap thickness is programmable, even those with thin corneas may be LASIK candidates.



The second step to having LASIK is reshaping the cornea to make images come into better focus. Older non-wavefront methods reshape according to the glasses prescription of the patient. Wavefront LASIK goes a step further and reshapes the cornea to correct defects in the visual system which may not be addressed by the glasses prescription. These are called higher order aberrations, and by reducing them our patients enjoy high definition vision!
Schedule a complimentary consultation with Aaron Florkowski, M.D. today. This extensive evaluation will determine if you are a candidate for the procedure and the success you should expect afterwards. If you wear contact lenses you will need to remove them before your evaluation. Dr. Florkowski's staff will let you know how long you need to be out of your lenses when you schedule your appointment.

During your examination, Dr. Florkowski will:
• Check corneal health, thickness and intraocular pressure
• Determine your exact prescription
• Perform diagnostic testing of your cornea
• Examine the health of your eye including the lens and retina
• Discuss your candidacy for the LASIK procedure

Dr. Florkowski will see you for your post-operative exam the next day. By this point you will have significantly improved vision; however regardless of how well you see, it is important that you keep all of your follow up appointments to assure proper healing. These follow-up visits are typically one day, one week, one month, three months, and one year after LASIK surgery.